A Report on the Sept. 8 Saline Board of Education Meeting
Image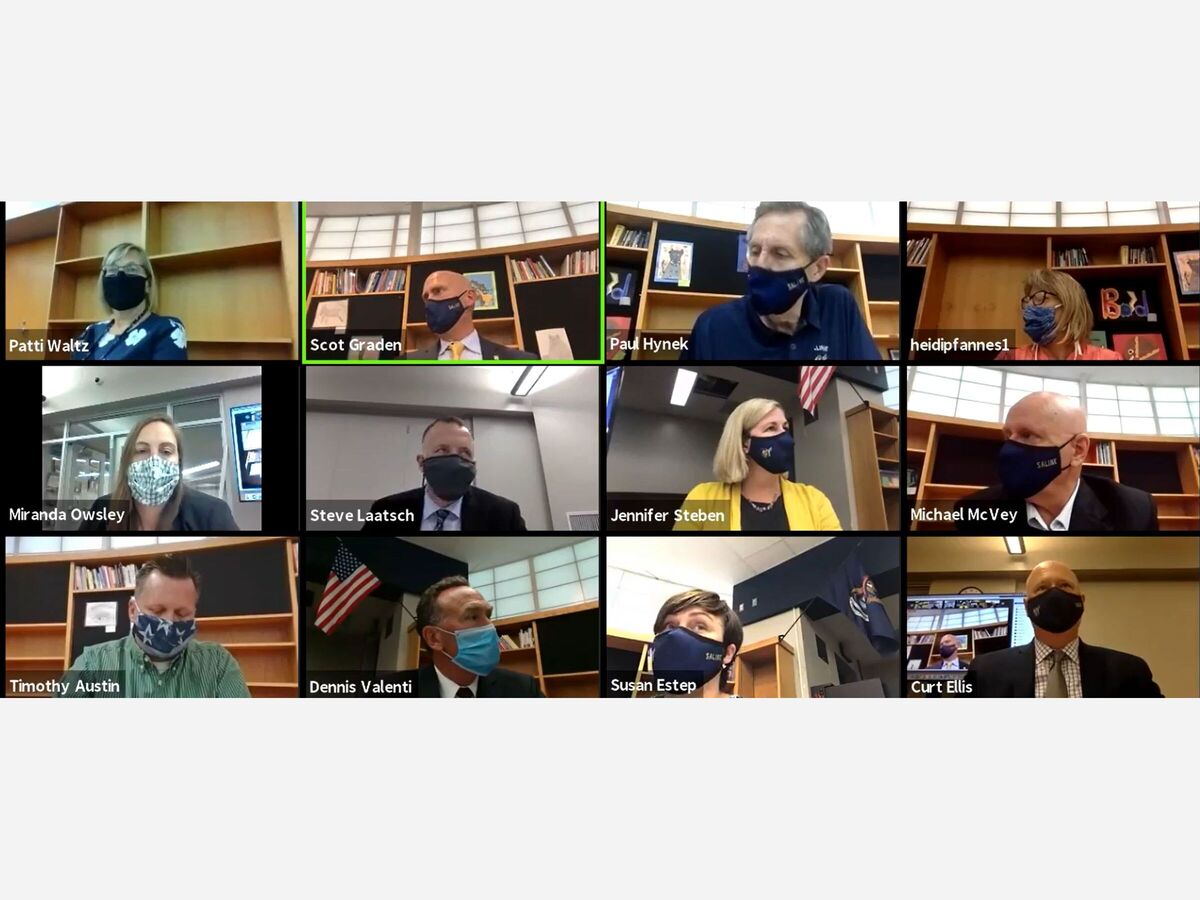 The Saline Area Schools Board of Education met Tuesday evening, which was also the first day of class (held online).
Audio Issue
A technical issue meant Facebook listeners could not hear the first 10 minutes of the meeting.
Miss Saline Introduction
Sayoni Bandyopadhyay, crowned Miss Saline in August, introduced herself to the Board of Education. She and eight other candidates were evaluated on academics and interviews by judges during the process. The pageant was held at the Rentschler Farm Museum Aug. 8.
"I was extremely excited and grateful to be crowned the 72nd Miss Saline and to be the recipient of a $2,000 scholarship," Bandyopadhyay said.
She said she looked forward to serving as an ambassador for the Saline community over the next year.
New Staff Video
Curt Ellis, Assistant Superintendent for Human Resources, introduced new staff with a video produced by SCTN's Eze Enriquez. Some of those staff members then introduced in the Liberty media center. The new staff video was "unlisted" on Youtube. Audio issues again emerged.
The board welcomed the new staff with applause.
"We are so glad to have you in the district," president Heidi Pfannes said.
Return to School
Superintendent Scot Graden reminded families to continue to refer to the district's "Return to School" page on the district website as a resource for documentation that is continuously updated. He referred families to the district's evolving "Connected Learning Plan," which details the district's back-to-school plan.
Graden reported the district received USDA funding to provide extended food services until the end of December or until the funds run out. Graden said 510 meals were going to be picked up Wednesday at Saline High School. The number is growing. There are no qualifications that must be met to participate. Click here for more.
Graden praised the work of the district's tech team, which serves more than 5,000 students and hundreds of staff members. The six-person team is led by Troy Wissink. They manage 3,500 student devices and 400 staff devices. They worked on 160 trouble tickets from parents. The tech staff was busy throughout Labor Day weekend and the first day of class. Over the last two days, Graden said, students and staff spend the equivalent of 680 days or 979,000 minutes on Zoom. There were more than 900 meetings with 35,000 participants. "We were able to get through and that's in no small part due to Troy and the team he has assembled," Graden said.
Graden provided an athletics update, noting the JV soccer team won 4-0. Sports are on, Graden said. All sports are participating. Football begins Sept. 18 against Ypsilanti. The district is strictly following safety protocols issued by the MHSAA, Graden said. "It's nice to see the opportunities for students who want those opportunities, and it's great to see it done safely," Graden said. Graden said athletics has taken place for a month and the district has not seen transmission of COVID-19 as a result of athletics programs. "I'm not saying it can't happen and not saying it won't happen. But I'm saying we've demonstrated a month's worth of activity that we've managed in a safe manner and we want to continue that," Graden said.
Graden spoke of first day "success stories." He noted there were 220 special education students who entered the school buildings Tuesday (while most students learned virtually). 11 school buses were called into action. Graden applauded the transportation department for running what he called a "shuttle service." There were 85 students in the Hornet Homeroom, offered through Community Education. Many of the families were recruited to participate, anticipating the need to help students get logged on and get devices working. Some career tech students were also in class Tuesday at Saline High School. Graden estimated there would be 600 students in the buildings for special education services and about 200 students in the buildings for career tech over the next three weeks, as most students learn virtually. "I'm proud, I'm exhausted and happy all at the same time," Graden said, adding that he appreciated the patience of families and staff as the district navigates these uncharted waters. 
Answering a question from Trustee Paul Hynek, Graden said outdoor sporting events allowed two spectators per athlete. Answering a question from Trustee Tim Austin, Graden said parents could go to SalineHornets.com and pay for streaming sports broadcast from Hornet Stadium and the gym. Trustee Jennifer Steben asked about the marching band. Graden said the program will continue but is not currently eligible to participate at the football games. Director Nate Lampman has explored recording a performance that could be included in the streams. The bands are working toward participating in the annual festival.
SAS Instructional Update
Assistant Superintendent Steve Laatsch presented a program on remote learning and integrating an "equity lens" in instruction.
Laatsch spoke about the importance of the tech team's work to prepare staff, students and parents for the virtual learning.
Laatsch credited the district's instructional design team for coordinating training to help teachers develop strategies to be successful in virtual learning.
Laatsch noted one of the key challenges this fall is that the many of the teachers and students don't know each other, so they're building their relationship in a virtual setting. Relationship building is prioritized before academics, Laatsch said.
Laatsch said the district is committed to diversity, equity and inclusion. He said the district wants all students to feel like they are a part of the curriculum. There's a five-point plan, Laatsch said. Point one is working with the DEI Leadership Coalition to develop a three-year DEI plan, focusing right now on learning, curriculum and assessment. The second part of the plan involves training staff. 120 staff members have been through a four-day equity training and advanced equity training program. 450 staff members participated in an Aug. 27 equity training program through the WISD. More staff is coming in September. Laatsch said Saline staff is tops in the county when it comes to the percentage of staff being trained in equity. Point three involves implementing diversity awareness in the district's framework and Compass. Point four centers on teaching history through multiple perspectives. Laatsch said textbooks often teach from one viewpoint. The district wants to provide more viewpoints. The district's social studies teachers met over the summer and plan to integrate core standards into the instructional fabric. Point five is to use literature to teach and support marginalized groups of students. "We want literature to provide windows so that all students can empathize with each other. We also want literature to provide mirrors so all students can their reflections in the curriculum," Laatsch said. There has been one meeting with the district's ELA teachers to talk about the kinds of books that should be used. Another meeting is set for October.
Policy Update
Trustee Susan Estep addressed the board on a couple issues. Superintendent Graden referred Policy 2460 on special education to Estep. The policy uses the term "disabled persons." Estep said the term will be revised to "persons with disabilities." The policy item will be addressed Sept. 22.
The policy committee of the whole will discuss board operating procedure policy 0175.1. The board would require trustees to complete Michigan Association of School Board classes on  collective bargaining, policy and diversity equity and inclusion. The policy does not indicate what penalty the board would levy against a trustee who does not complete the programs.
Human Resources Report
The human resources report included the resignations of Annette Bowen, Heritage literacy tutor; Robyn Bradford, Saline HS paraeducator; Sarah Brooks, Pooh Corner; Jill Cooper, Pleasant Ridge literacy tutor; Kelli Hartman, Saline HS custodian; Mackenzie Ruth, Liberty paraeducator; Whitney Watkins, Saline HS custodian; and Pranvera Ziba, Pooh Corner. Patti Fosdick, Pleasant Ridge literacy tutor, retired.
New hires included Heritage teachers Nicole Eldrige, Julie Franks, and Kaitlym Gasparovich, Pleasant Ridge teacher Helen Rodriguez, Saline High School teacher Ireland Van Eck and Pleasant Ridge literacy tutor Cristal Moyer.