Many Still Without Power Hours After Storm
Image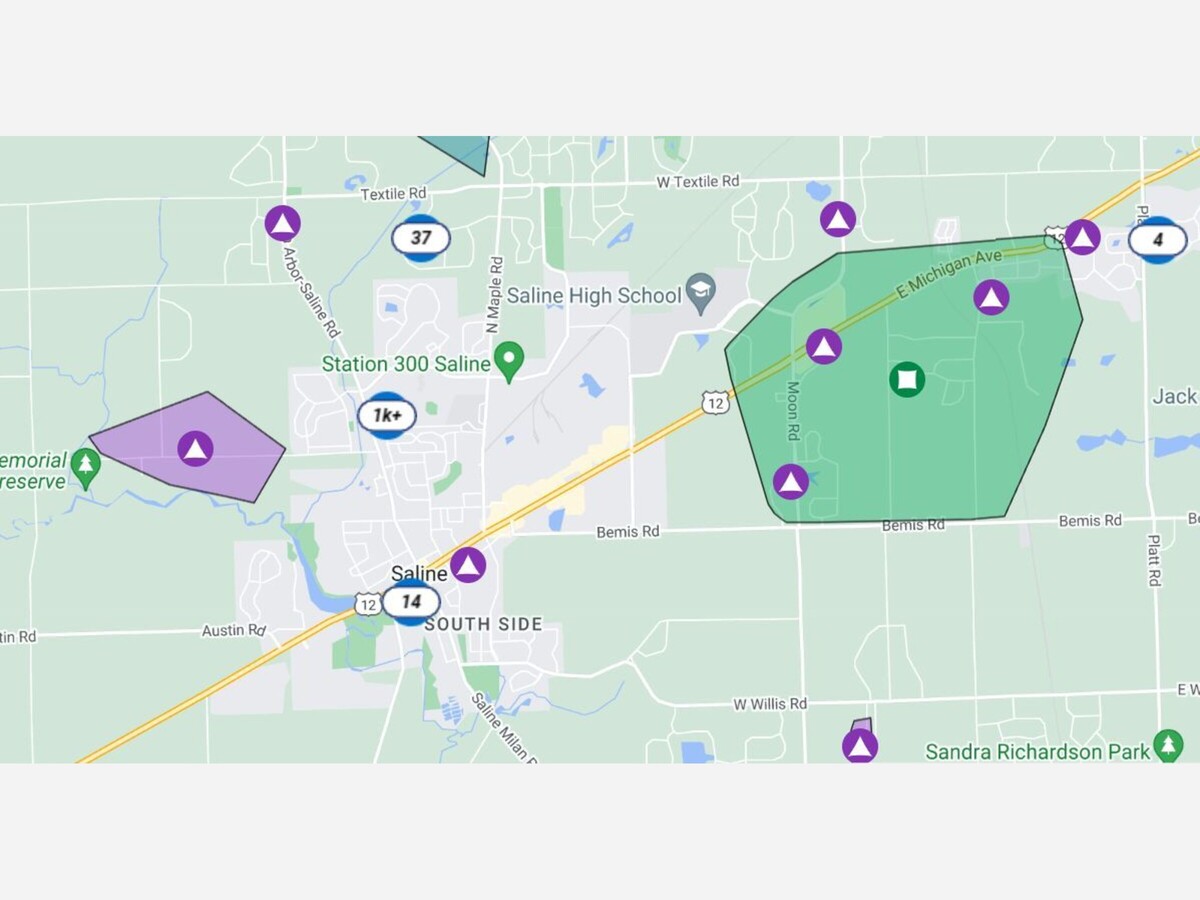 12 hours after a strong storm blew through the region, many are still without power in the Saline Area. DTE estimated 20-30 percent of the customers in the 48176 zip code were without power as of 3:30 a.m., Thursday.
Despite the inconvenience of power outages and damage to trees throughout the community, Saline seemed to avoid serious damage.
As of around 6 p.m. Wednesday, Fire Chief Jason Sperle said the department was busy.
"We have been steady with calls of downed power lines and trees, but not overwhelmed. Nothing too severe yet," Sperle said. "Sounds like most of the storm avoided us."
Police and fire responded to the area of Saline-Milan Road and Willis Road for a reported downed tree that was on fire.
Police Chief Marlene Radzik said one of the most annoying problems was the light at Michigan Avenue and Harris Street.
"It was flashing red on Michigan and flashing yellow on Harris Street. There've been a lot of angry drivers in Saline with all the construction, and this didn't help. They wanted us out there directing traffic, but our officers were busy on calls for downed trees," Radzik said.
Police also received many concerns about the sirens sounding without a tornado warning. Radzik explained that the siren in the City of Saline, operated locally, only sounds during tornado warnings.  The sirens people heard were sounded by Washtenaw County Emergency Management, which has a different threshold for activation.
"The storm had strong winds which knocked down trees. They felt it was appropriate, in the name of safety, to issue a warning," Radzik said. "It wasn't a tornado, but if you were outside or in your car, you were at risk of trees and branches coming down."
There was heavy rain and lightning later in the evening, too.
Early in the morning Thursday, thousands of local DTE customers were still listed as being without power. More than 1,000 customers on the north side of the city and into Lodi and Pittsfield Township were without power.
Another 556 of those customers were in Pittsfield Township, in an area mostly bounded by Moon and Platt Roads.  DTE's outage map didn't offer estimates for service restoration for these specific zones, instead estimating that 90 percent of customers would have their power restored by Saturday evening.
Wind speeds greater than 60 miles per hour were measured in Wayne County.
More News from Saline