Man Shoots 2 People in UAW Parking Lot, Flees and Causes Head On Crash
Image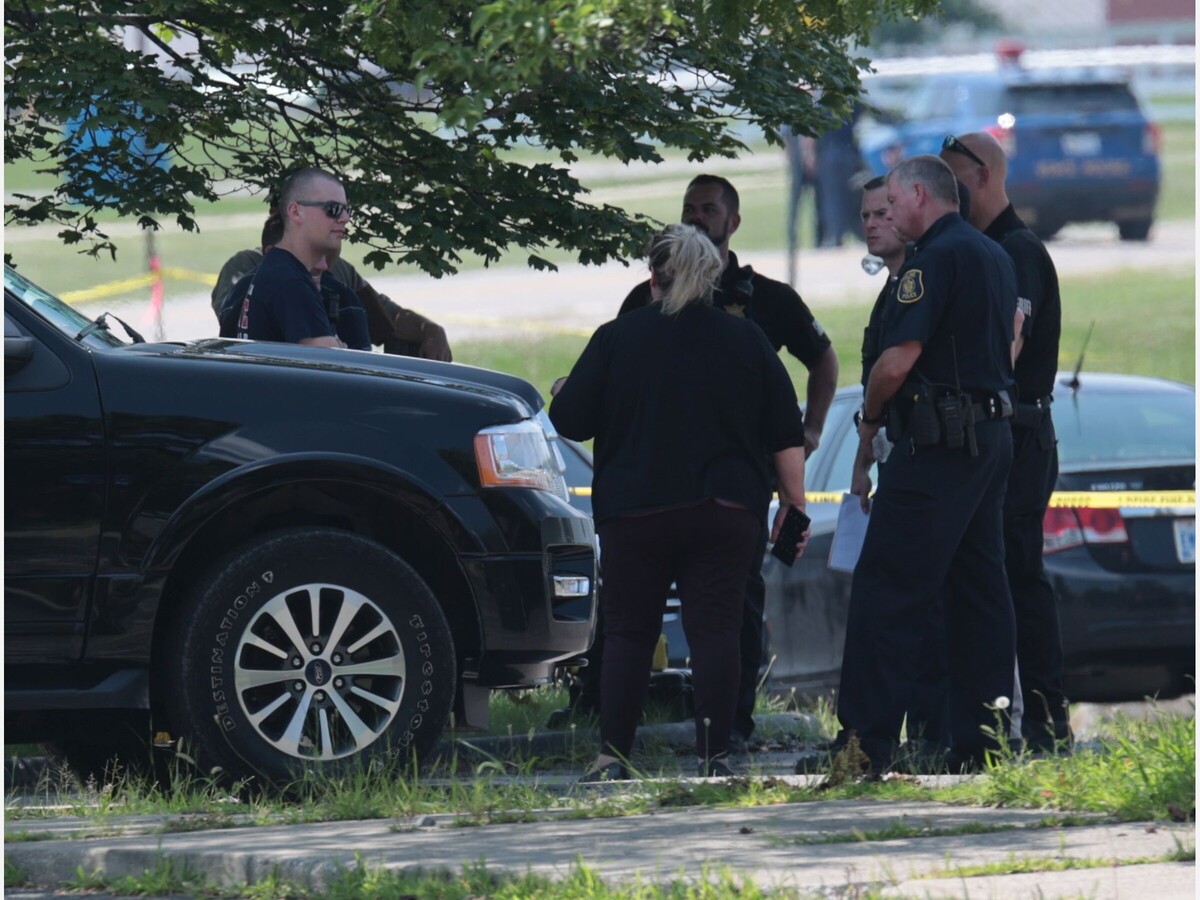 Updated at 6:05 p.m.
Thursday morning, local emergency response workers gathered at Saline High School for active-shooter response training. A mile away, employees at Linden Square Assisted Living Center were preparing for something much more pleasant - a classic car show.
Instead of ice cream and classic cars, the staff and residents of Linden Square experienced a burst of violence. A 58-year-old man from Lenawee County allegedly shot and seriously injured a Linden Square employee in the old UAW parking lot across the road. Another man was shot in the parking lot before the suspect fled in a tan Ford Escort. As police and emergency responders descended upon Saline, many coming from the training exercise at Saline High School, the suspect crashed head-on into another vehicle on Ann Arbor-Saline Road near Willis Road. A Washtenaw County Sheriff's Office Deputy on the way to the scene stopped at the crash and attempted to arrest the suspect, who did not comply. The deputy used his Taser weapon to immobilize and detain the suspect. The driver of the other vehicle, a 38-year-old woman from Jackson County, was taken to the hospital in stable condition, Saline Police Chief Marlene Radzik.
The female victim of the shooting in the UAW parking lot is a 40-year-old woman from Lenawee County, according to police. She was previously in a domestic relationship with the suspect. She is an employee of Linden Square, Radzik said. She was transported to the hospital where she was listed in critical condition, Radzik said. The male shooting victim was reportedly in stable condition, according to Radzik. He is a 67-year-old man from the Saline area.
Police have recovered the gun they believe was used in the shooting.
Radzik said police are investigating the incident. The suspect is not a resident of Saline, she said.
The daughter of a resident of Linden Square was concerned about her mother's well-being after the violent, chaotic incident.
"We know they are safe, but she's very confused. She doesn't understand what happened and doesn't know who was hurt," she said. "When you get your mother in a place like this in an area like Saline, you don't expect this to happen."
Kayleigh Gagnon, a spokesperson for Heritage Property Management, Inc., owner of Linden Square, said the company is grateful the suspect was caught and stands united with the victim.
"We are grateful to inform the public that the perpetrator responsible for this incident has been promptly apprehended by law enforcement, and there is no longer a threat to the community at this time," Gagnon said. "Our utmost priority remains the safety and well-being of our cherished residents, dedicated staff members, and valued visitors. We are in close cooperation with local law enforcement authorities, extending our full support to their ongoing investigation, and providing all necessary assistance to the affected parties. We stand united with the victim and their family during this challenging time and offer our thoughts and prayers."
Police Chief Radzik said she was grateful for the collaboration of other law enforcement and emergency agencies. Saline police were aided by police from Washtenaw County Sheriff's Office, Michigan State Police, Pittsfield Township, the FBI, the ATF, Ann Arbor Police, as well as Saline Area Fire Department, Huron Valley Ambulance and other agencies.
Saline Mayor Brian Marl said the city immediately notified Saline Area Schools Superintendent Steve Laatsch of the incident. The incident was very close to Saline Middle School and not far from Woodland Meadows and Heritage School. The district locked down the school buildings for a short period of time, Marl said.
It appears the last shooting in Saline was in 2016 when an Ypsilanti man shot and killed himself after shooting his ex-girlfriend and a man at Six Trails Apartments.
Details from radio scanner files (Note, these are not necessarily accurate and based on details recorded as they came over the scanner. Nevertheless, they have proved useful in piecing together incidents):
11:21 a.m. - All units dispatched to Linden Square for a man shooting. Shooter was in the parking lot at 650 Woodland Drive.
11:22 a.m. - Shooter was described as possibly a white male in a striped shirt.
11:23 a.m. - Police instructed to go into active shooter mode.
11:23 a.m. - Saline Fire dispatched to Linden Square for an active shooter with possibly three people shot, one person confirmed. Huron Valley Ambulance also dispatched.
11:24 a.m. - One confirmed patient down.
11:24 a.m. - Some emergency personnel staged at the bowling alley.
11:25 a.m. - Fire officials left a training exercise to the active shooter.
11:25 a.m. - Dispatch advises the suspect has crossed the street near "the old Moose Lodge."
11:26 a.m. - Police believe they have a suspect in a gold Ford Focus.
11:27 a.m. - Fire advised the scene was secure to provide aid.
11:32 a.m. - Milan Fire dispatched for a head-on crash at Saline-Milan and Willis Road.
11:33 a.m. - Police have the suspect in custody.
More News from Saline