Artist Strikes a Chord With Mural at Ann Arbor Saline Music Center
Image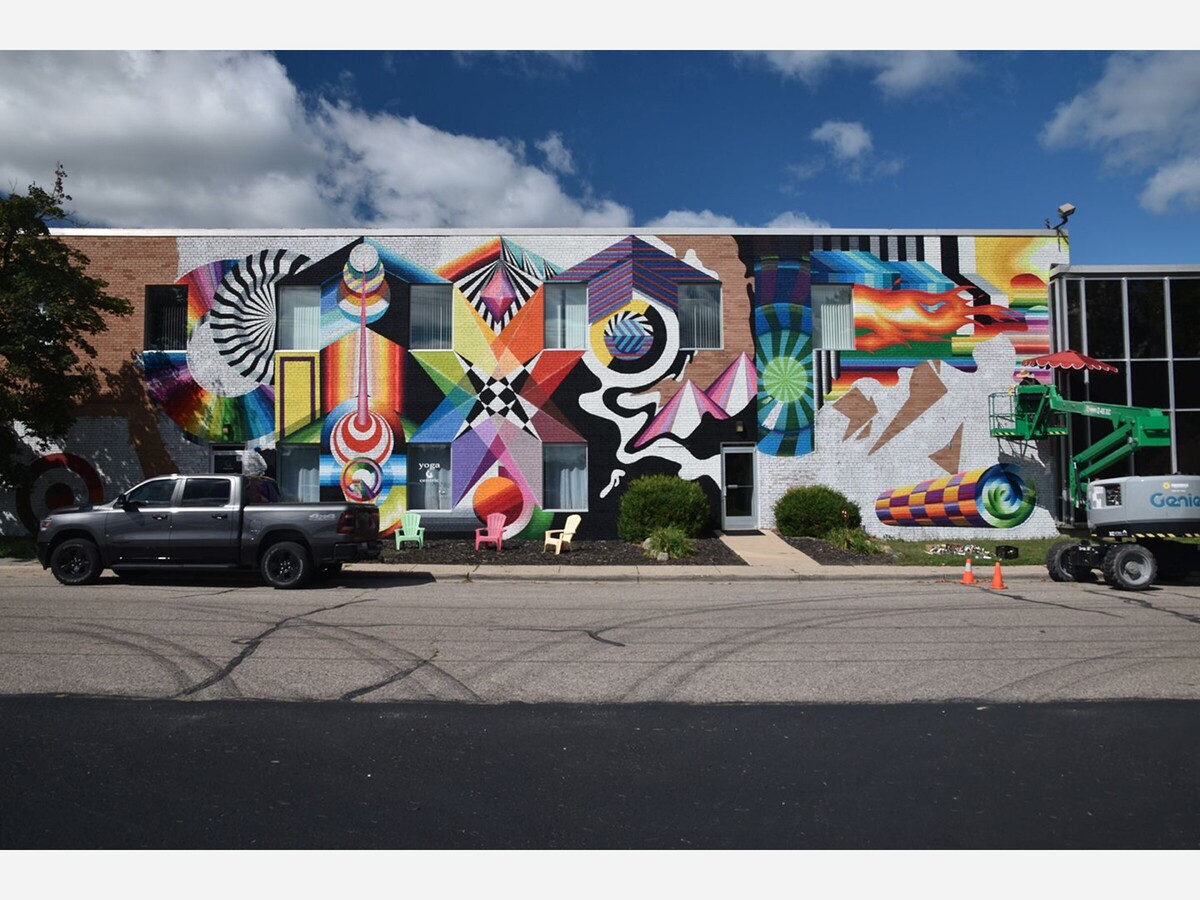 The Genie Lift raises and lowers. Muralist Joey Salamon leans over the deck rails, and removes strips of paint-splattered tape from a section of the building's facade. He sticks it elsewhere on the building, pressing the tape firmly before applying more spray paint.
It's a process Salamon will repeat countless times as he paints his mural along the south wall of the Ann Arbor Saline Music Center.
"We've been really trying to make the building look nicer for the neighbors," says Karen King of Joking Properties and the Music Center.
The Ann Arbor Music Center had simple beginnings, according to Alex
Johnson, who founded the Music Center in 1998. 
"I started with one room
and it grew to be hundreds of students and more than a dozen teachers," Johnson said.
He says his alumni play everything from Bonaroo to concert venues in
Europe. But, when the rents became too high in downtown Ann Arbor,
Johnson and King found and bought the 47,000-square-foot building in
Saline in 2019. Now they are the landlords to numerous small businesses
in the building, including insurance agents, counselors, a yoga studio,
and other artistic ventures like King Custom Guitars.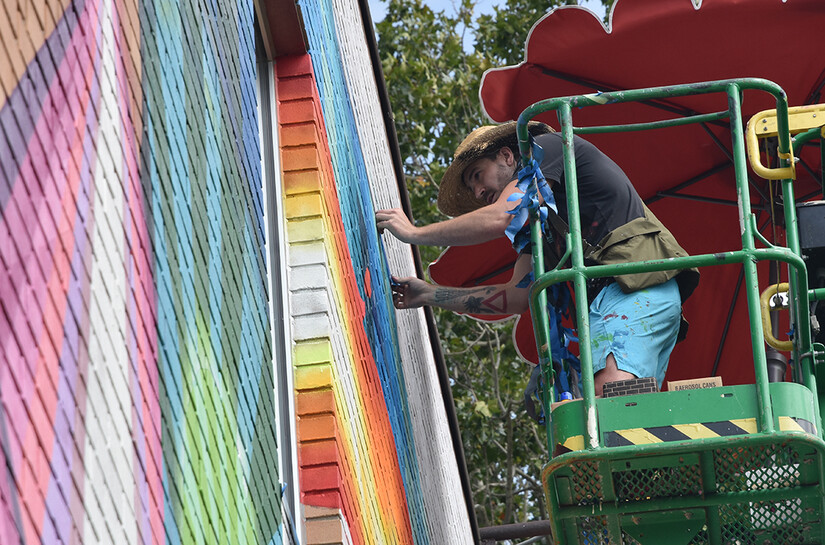 Since buying the building at 135 E Bennett Street four years ago, they've made other, smaller changes to the exterior. Most have been to the rear of the building—where students enter from the parking lot near North Harris and Clark Streets—including fresh coats of paint, a new fence, and a re-homed artwork from Art Around Saline.
It was in the parking lot behind the Ann Arbor Arts Center when King first saw Salamon's work. "I was just amazed by the mural," King said. 
Her daughter saw Salamon's name on the wall, and began scrolling through his Instagram account. King thought a small mural in the Music Center's parking lot would look cool. "I knew he would probably be out of our price range."
Once on site, Salamon said he could do it. But first he asked to see the front of the building. "I said, 'Why aren't we doing this wall?!'"
According to King, Salamon said the front of the building was an ideal space. 
"I thought that sounded amazing, because [Hennie Field] is right there," said King. She reflected on the people who used the park, and walk through the neighborhood. "I want the whole building to look good for the community!"
In early August, Salamon started with a primer coat. 
"It'll help with longevity a little," he said. "But it really helps the lighter and brighter colors pop better." Given carte blanche, he makes it up as he goes along. "After you are doing something for hours and hours, you kind of come up with an idea of what will work and what will not," he said.
Making sense of the exploding shapes and colors can be a challenge, especially since they are still emerging. 
"It's not as complicated as it seems," Salamon says. 
There is order in the chaos. Lines radiate from the corners of windows, intersecting as stars and chevrons. In the lower left, a concentric circle is hidden beneath the trees, echoing fire department connections and pipes protruding from the brick. 
"I don't like seeing murals where there are things on the wall—whether a window or an air conditioner—when they are not considered at all," says Salamon. "I think every single thing needs to be tied in, in some form or fashion."
Salamon grew up in Midland and graduated with an art degree from Grand Valley State University in 2010. There, his interest in color took shape. 
"Back in college I would do huge collages made of tiny pieces of paper," he said. "Those were all bright and colorful." 
Between working as a graphic designer for newspapers in Molokai, Hawaii, and Chicago, he worked briefly as an artist assistant for Jen Stark. "Up until that point, I don't think I had ever met someone who was working full time as an artist doing their own style." 
He learned the business-side of being an artist, bombarding her with practical questions like dealing with health care and taxes. 
"At this time I was 22. She's maybe five or six years older than me, but was out there killing it."
In the last few years, Salamon has been successful, too. His murals can be found throughout Michigan, as well as in Arizona, Florida, California and Colorado. Part of his success stems from working with cities before any paint touches a building. "Cities can be difficult when it comes to murals—some want sketches, need permits, need to be voted on by councils. It's just better to call and make sure everything is good before starting." 
However, he thought Saline was the easiest city he's ever worked with.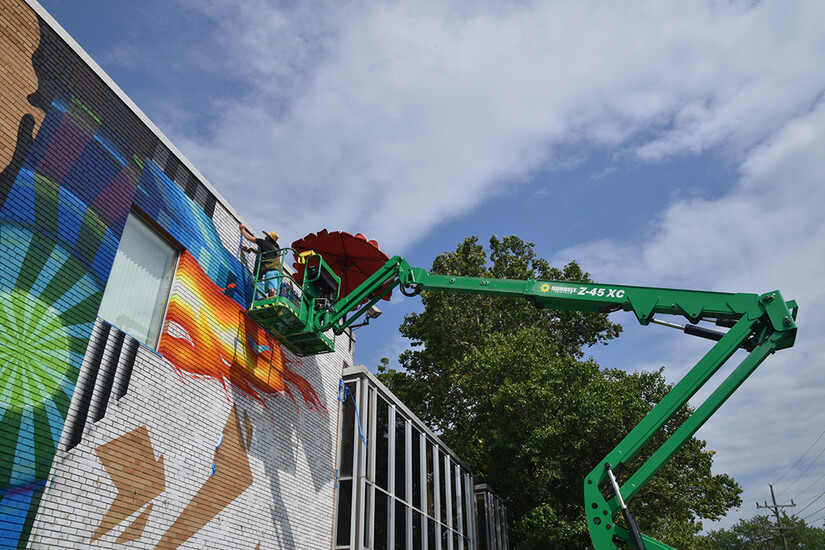 "It's a gray area within our sign code," says Ben Harrington, Community Development Director for the city. It's the first mural the city has had to deal with. Because its design is all abstraction—containing no words, and no depictions of real goods or services—the city looked at it in much the same way as someone painting their house pink. 
"There's not really a lot of administrative things to go through, or for [Salamon] to be reviewed on," he said.
Thanks to Salamon's trail-blazing mural, that gray area might change in the future. There are plans to clarify the code with City Council. "The key going forward is having a carve-out for public art, or a mural," said Harrington. "Creating a new definition, and maybe a couple regulations off of that like, 'should be reviewed by Arts and Culture.'"
"I could see that being a good fit," said Katherine Downie, currently the chair of the Arts and Culture Committee. She can also see ways that the Music Center mural could open up other visual possibilities elsewhere in the city. "In Luddington they have murals depicting historic events that have happened in the city. I think it would be cool if we did some of that."
Downie is a fan of this mural, too. 
"Every time I go by it, I'm excited to see the next part he's done, and how he's incorporating so many different patterns and designs in there. It's just so appealing."
Recent rains have slowed the mural's progress some. But that hasn't dampened the enthusiasm of the Music Center. 
"We are all so excited," said King. "Joey said the other day, 'I think this is going to be my best work yet.'" 
Unquestionably, it will also be the best mural in town.
More News from Saline
Replies
Leave it to the City of Saline Government to believe that everything the citizens do should be illegal and they must create an ordinance to allow any type of freedom. Totally backwards, totalitarian thinking. We do not live in a free country as long as this bureaucratic thinking persists in government. We are not to be treated as slaves on a governments tax farm. 
Creating a regulation is not the same thing as making something illegal, Sal.
Currently the city has no regulation supporting, defining, or restricting the production of a mural. Theoretically, the approval of a mural is entirely upon the whim of someone at City Hall. Should the whims of change blow a different direction, some future bureaucrat's whim could be to prohibit any and all murals.  Fortunately, Mr. Harrington is cool with murals, and he seems to be seeking a way to codify said coolness.