ChadTough Hosts Orange Out Night at Friday's SHS Football Game
Image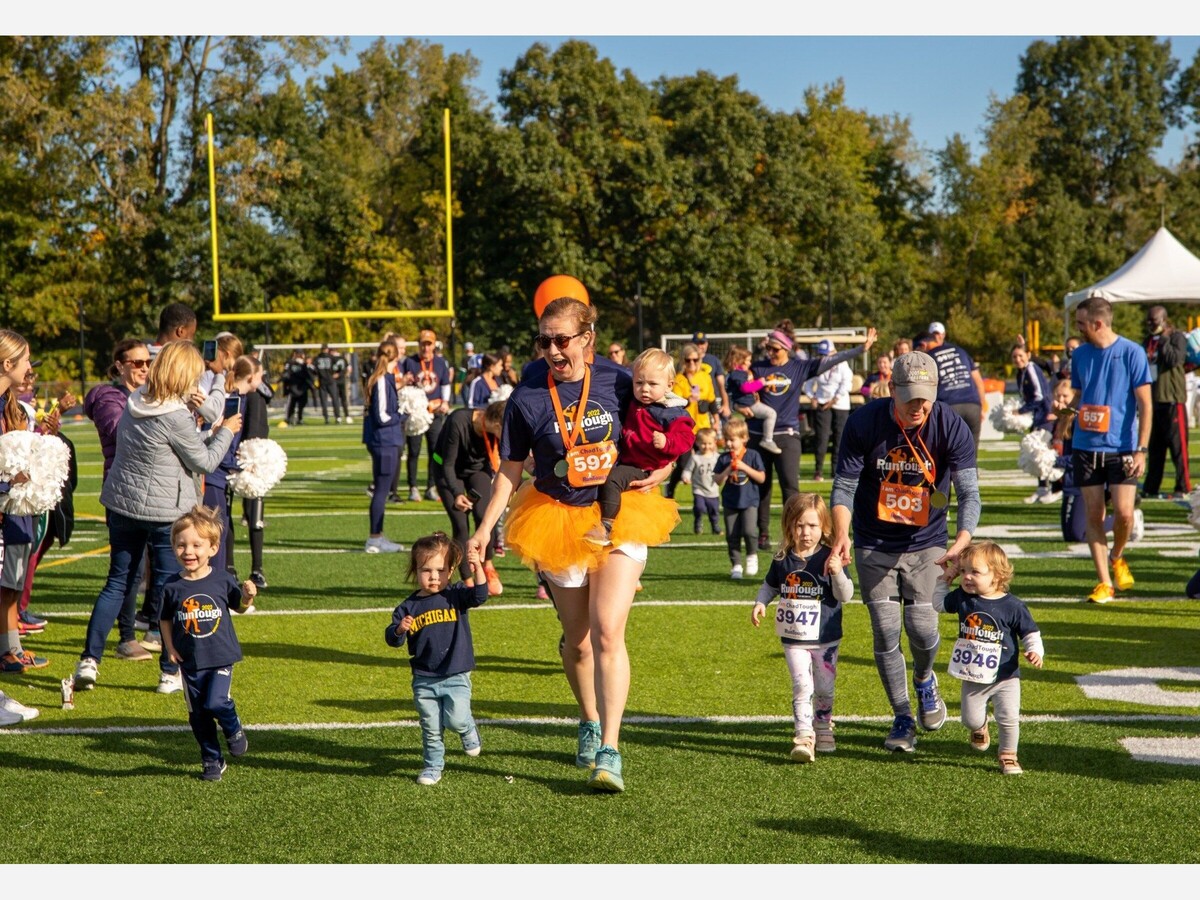 The ChadTough Defeat DIPG Foundation will be hosting an Orange Out night at Saline High School's football game this Friday. Spectators are encouraged to purchase the signature ChadTough orange t-shirts there, and will have the opportunity to donate and sign up to participate in this year's ChadTough RunTough 5K, which will be held on Saturday, September 16th.
This year marks the tenth annual RunTough to raise money and awareness for the ChadTough DIPG Foundation.
"We started the ChadTough Defeat DIPG Foundation after our son, Chad, was diagnosed with a brain tumor called DIPG," said Tammi Carr. "It is the leading cause of brain tumor death in kids. Brain tumors are actually the leading cause of cancer deaths in kids. And of the brain tumor, this cancer, this tumor, accounts for over 50 percent of the deaths every year. There is a zero percent survival rate."
The family was inspired to find ways to fund research to reverse those odds.
"Basically, there had been very little research done and people weren't really trying. We said 'That's not okay. Something needs to change.'"
Carr is hopeful for the progress that is being made.
"We have a scientific advisory council. We wanted to make sure that the money was going to the right things," Carr said. " We have a significant partnership at the University of Michigan. The brain tumor center there is named after Chad. It is the Chad Carr Pediatric Brain Cancer center. We fund good research there. We take it very seriously. We're going to give where the best research is. That's the most important thing to me. I want the best people and the best minds working on this disease, and wherever they are is where we are going to fund."
"There's a lot of progress being made. Life expectancy is extending, which is the first step. Sixty years ago, this disease took the life of Neil Armstrong's daughter. And Chad was given the same protocol. That just made no sense. To see how quickly things have changed. Chad will be gone 8 years in November. In the science field, that's actually a short amount of time. They've come so far."
September is Pediatric Cancer Awareness month, and also the month that the family celebrates Chad's birthday. Carr wants this day to be a family fun day where the community can come together to support the cause.
"This is the tenth race. Actually, Chad attended the first two of them. It started back in 2014. Basically, our neighborhood put it together without us even knowing to raise money for our family. We didn't know exactly what was going to happen and what expenses would be going forward. After that, I said 'Why don't we just keep doing this and put money toward this disease?' When we talk about it, we say this race was the beginning of the entire ChadTough foundation."
This year's event will feature something for the whole family.
"We've got Blue Cross Blue Shield of Michigan as our presenting sponsor. Meijer is our family fun zone sponsor. We are moving in the direction that we want young families to come," Carr said. " It doesn't matter if you run or any of it. You can participate and do a nice walk if you want. On the football field at Saline, there's going to be a ton of fun things for families to do. Face paintings, dunk tanks, mascots, tot races, all sorts of things. It's really a fun morning."
Runners can also participate anywhere in a virtual run.
"It's not about being a runner. We are not a serious race. We do have a 5K and a one mile, and we have a lot of people that just walk it. My favorite thing is that they get the shirt, they wear the shirt, somebody asks them about ChadTough, and they share his story and spread awareness. That, to me, is the biggest thing."
Carr hopes to see new faces at this year's event.
"Our family does this because somebody needed to. My goal is to have a lot of people in the Saline and Ann Arbor area there with us celebrating, and new people there learning about what this is. I think a lot of people have heard about ChadTough, but maybe they don't really know what we're doing and the impact that's being made. I think people in this community should be proud of that."
" I'm so grateful to the Saline community because they have been a huge part," Carr said. " We are housed here, we are part of this community. We've now become the largest research foundation for DIPG in the world. Doctors now think there will be a cure in our lifetime. That's a pretty incredible legacy for a five-year-old boy."
"Although we didn't get the miracle we wanted, which was Chad still being here with us, this foundation is literally changing the face of this disease," she said. "He had a job to do while he was here. I truly and wholeheartedly believe that. He's going to be a huge part of why there's a cure found. And that's an amazing impact for a little five-year-old to make on the world. That's an incredible legacy."
For more information, visit chadtough.org.
More News from Saline