Salt Valley Arts Open House Highlights Guilds and Creative Opportunities for the Saline Community
Image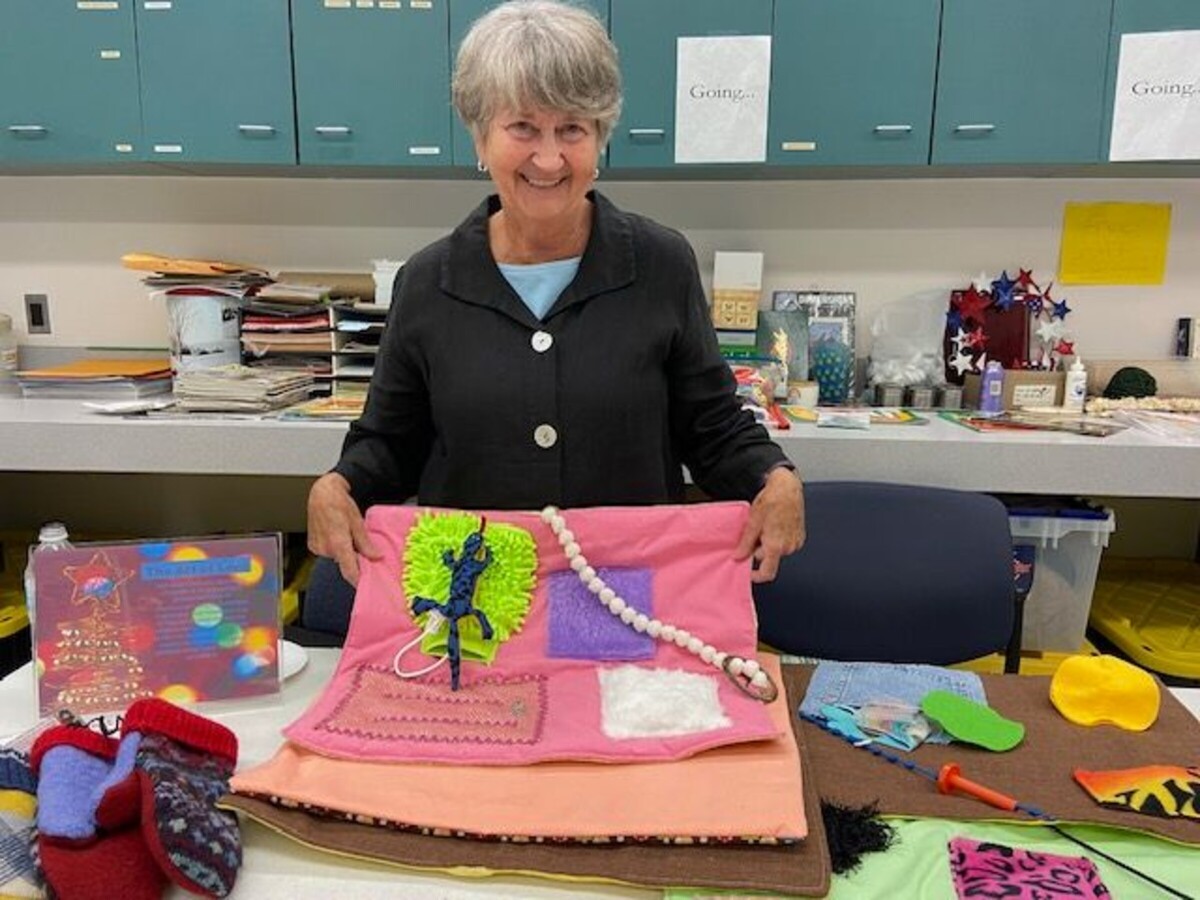 Salt Valley Arts held an open house on Sunday, September 10, offering the public a chance to tour their facilities at Evangelical Homes on West Russell Street. Members were available to give information on the various guilds and service opportunities while showcasing some of their artistic pursuits.
Nancy Miller heads up the service guild, where members use their talents to create needed items for Saline residents. One of the projects involves turning old sweaters into mittens, which are distributed to those in need in the community.
"The mittens are one of our community service projects, and they are also for this coming season," said Nancy Miller, who heads the community service guild. " The next opportunity we have are fidget mats. These are for dementia patients. We are hoping to pass these on to patients at Evangelical Homes of Michigan. We've collected a lot of materials to put together."
"The open house is something we've been looking forward to," said Karen Losey, who heads the fiber guild. "Hopefully we will get more members so we can grow. This is a fun place to be."
Losey said a good place to start to learn more about what Salt Valley Arts has to offer would be Cake Eaters, which meets on Friday mornings.
"We have the fiber guild. We have the community service guild. We have painters. We have writers. We are waiting to see more guilds grow," she said.
Eva Benevento and Gay Halseth were manning the table for the newly formed writer's group called Scribble and Squeak.
"We started with three, and now we are up to twelve," Beneveto said. " We gather once a week. We bring our writings and share them and we critique one another and we help each other grow in our craft."
"It's about honing your skills. It's very organic, and it's very positive. You know people are looking to help you in making your writing better, " Beneveto said.
"And they are not afraid to criticize, either," Halseth said. " Where you've made a mistake that is obvious, they will point it out so that you become a better writer."
Lynn Quick and Joyce Tinkham represented the Inspired By Nature guild.
"We try to find different places to go out into nature and do art for a couple of hours on a Sunday afternoon," Quick said. "We've been to Mill Pond Park. We've been to Karen Losey's garden. She has a hundred different types of lilies. If the weather isn't permitting, we just come in here and work on whatever pieces, whatever medium we want to use. It is not all watercolors. The whole idea is that you are inspired by nature."
Cathy Cieglo is part of the Friday Cake Eaters. She works with quilts as well as fiber and paper arts.
"One of the things about this whole group is how supportive they are," Cieglo said. She is currently working on a challenge involving twenty-six limericks that her mother wrote, using them as a springboard for creative ideas.
"We are issuing a challenge. If anybody is inspired to do something to represent this, or if they are inspired in some way, we are going to eventually collect them and see what we will do. This year, it's just a challenge for fun."
"The main idea is just how supportive and how wonderful everyone in this group is," she said. "It's been wonderful."
For more information, visit saltvalleyarts.org or email info@saltvalleyarts.org.
More News from Saline