FOOTBALL: Saline Takes a Stranglehold on the SEC Red.
Image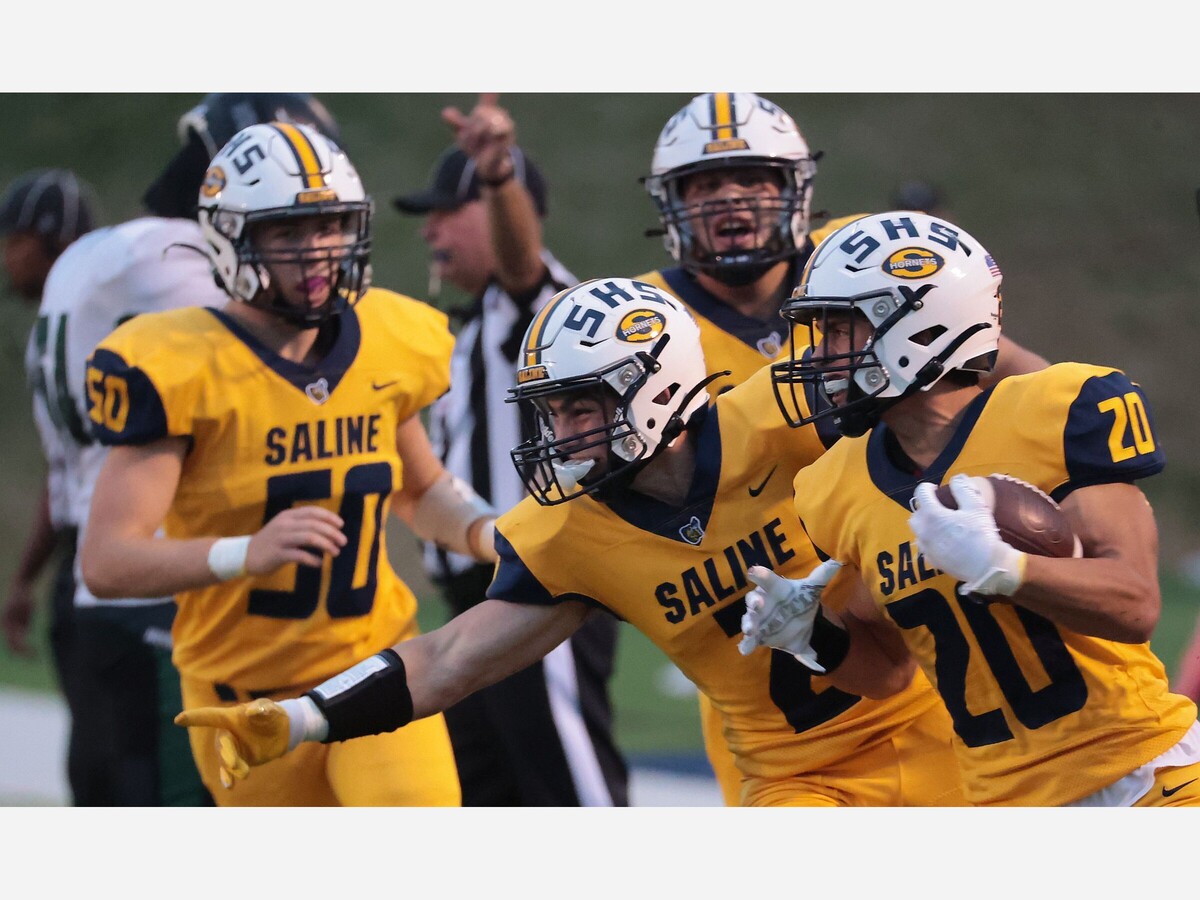 The Hornets "Done the Dew."
CJ Carr threw four touchdown passes, including three to Caid Fox, as Saline defeated Huron, 43-7, to take a stranglehold on the SEC Red. Saline is now 5-0 in the SEC Red and 6-0 overall. Saline is one game ahead of Dexter (4-1) with SEC Red games remaining against Lincoln (1-4) and Skyline (0-5).
It's too early to take team photos - after going undefeated through the hardest part of the schedule, the Hornets celebrated with a "Mountain Dew" shower in the dressing room.
"It tastes great. It tastes like a win," said CJ Carr. "I'm so proud of this team and how we've been playing. We had the comeback narrative. We had a Monroe team that was better than we expected and we played our buts off in that game. And we came out tonight and we just dominated."
Saline senior DB Peyton Widen said the celebration was awesome.
"We were spraying (Mountain Dew) everywhere. I'm soaked in Mountain Dew. But it was awesome," Widen said. "This was a big victory. We knew this was the path to victory to get the revenge we wanted after not getting the SEC championship last year. It feels awesome."
Huron came in with a 3-1 record in the SEC. An upset victory at Hornet Stadium would have created a three-way tie for first place.
Friday's game began with a short Saline kickoff to prevent the athletic Huron backs from the kind of long returns that plagued the Hornets last week against Monroe. The River Rats started well, driving RB Jamil Thomas up the middle and around the edges for a few first downs. They pushed all the way down to the Saline 25 before Huron took a penalty. From there, the Saline defense took over and the Rats offense stalled - and really wasn't a threat the rest of the night.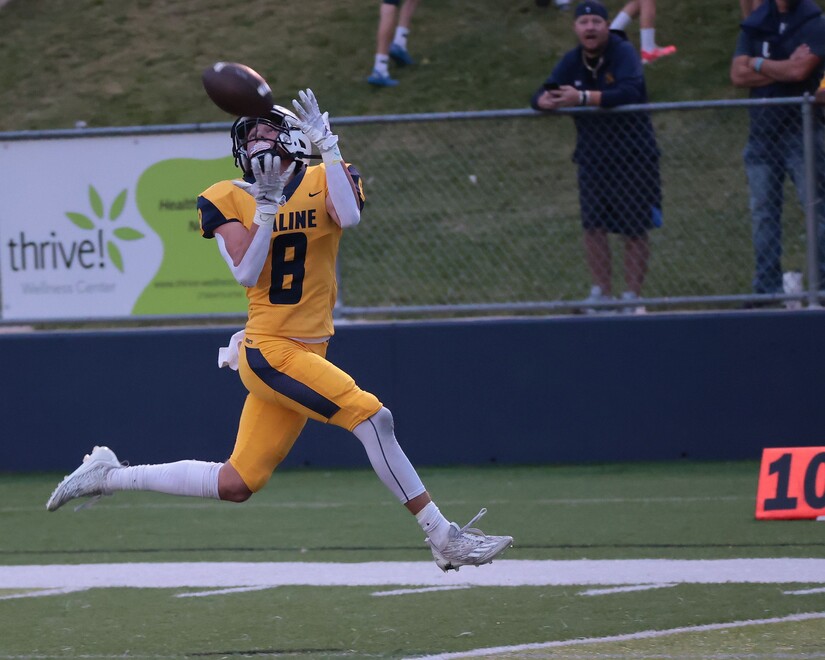 Saline took over at its 29 and moved up the field with CJ Carr's passes to Dylan Mesman and Caid Fox. Carr and Fox capped the drive with  Carr finding Fox wide-open, streaking toward the end zone along the Huron sideline in a play that looked like a carbon copy of two Carr-Fox touchdown plays last week.
Was Fox surprised they were able to execute the play against a team that would have presumably been on the lookout for it?
"I'm not (surprised). We work on that so much. We've mastered it. I don't think anyone can guard that play and if they do, we'll go to someone else," Fox said.
Saline led 7-0 after Jacob Piniatoglou's kick. Saline got the ball right back when Ryan Stein recovered a fumble on the kickoff. Saline took over at the Huron 37 but its drive was thwarted by a penalty and a fourth down try for Fox in the end zone just failed to click.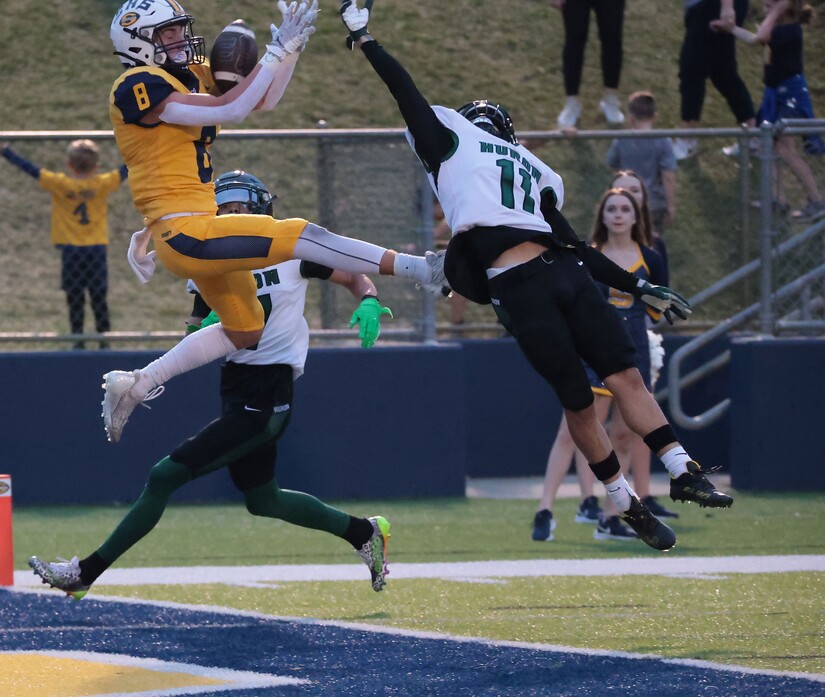 Huron took over at its 28 and went nowhere - Saline forced a 3 and out and the Rats punted from the 29. Saline took over at its 40. Carr led the drive up the field quickly and on the second play of the second quarter, Carr passed to Mesman who was slanting back over the middle for a touchdown. Saline led 14-0.
The Hornets kicked off and once again the defense forced a 3-and-out, with James Rush breaking up a third-down passing attempt. Huron punted and Saline took over at the Huron 45. The drive seemed like it might stall due to a couple of penalties, but Carr and Fox connected for their second touchdown of the night - a 42-yard play. Carr's pass to Fox took care of the first 15 yards. Fox broke a tackle and went the rest of the way. Saline had a commanding 21-0 lead.
Saline's defense continued to stifle the River Rats. Saline's next drive took over at its 32. The Hornet possession stalled at midfield at CJ Carr punted. Huron took over at its own 20 - but James Rush got a quick interception to give Saline great field possession late in the half. The Hornets couldn't punch it in - but placekicker Jacob Piniataglou came through for a field goal. Saline led 24-0 at halftime.
After the homecoming ceremony at halftime, the game resumed with Huron kicking off to Saline. Saline moved the ball up the field with a good gain on a pass to Ladainian Woods.
Jame Rush capped the drive by pinballing through the defense for rushing touchdown. Saline led 31-0.
The Hornets recovered yet another kickoff. A couple of plays later, CJ Carr and Caid Fox completed a touchdown play that perhaps no other quarterback and receiver in the state could make. CJ Carr put it where only Fox could get it. Fox made the over-the-shoulder catch in tight quarters, with a Huron DB on his back.
Carr said it's the kind of play he and Fox complete all the time in practice.
"You can go through his practice film and find three of those a practice," Carr said.
"That was a perfect ball. Over the other shoulder. I adjusted to it. It was the perfect ball," Fox said.
"I don't know if there's been a better catch or a better throw combination that I've seen," Coach Joe Palka said. "And, honestly, I believe it's against their best DB. Their secondary is very good. To drop that into tight coverage is pretty dang impressive."'
Saline led 37-0 after Piniatoglou's kick was blocked.
The River Rats responded with their only scoring drive of the day. It was led by new QB Lawrence Wells and capped by Santana Jone's four-yard TD run. Saline led 37-7.
The Hornets added one more touchdown. Sophomore QB Tommy Carr engineered that ended with him throwing a touchdown pass to promising sophomore Lincoln Keyes. Saline led 43-7.
Saline is undefeated through two-thirds of the regular season - and that's no small feat.
"We talked about how challenging the first third of the season was, including Dexter. And then you look at the next third of the season with an improved Monroe team, and I'm always worried about Huron. They don't have a million guys on the team, but they are always athletic," Palka said. "So to get through what happened with Monroe and then get to this game and make that kind of improvement, I'm happy for our kids. They deserve what they've gotten because they're working so hard."
Of course, the SEC is not quite clinched. Saline visits Lincoln next week and then finishes the SEC Red schedule Skyline before wrapping up the regular season schedule at home to Lake Orion.
The Hornets have every intention of taking the SEC as they get stronger for the playoffs.
"We need to keep improving. We need to finish to win the SEC. We want to make sure we're playing great football as we roll into the playoffs," Palka said.
Game photos and more at TheSalinePost.Smugmug.com.
More News from Saline