FOOTBALL: Saline Clinches SEC Championship With 70-0 Win at Skyline
Image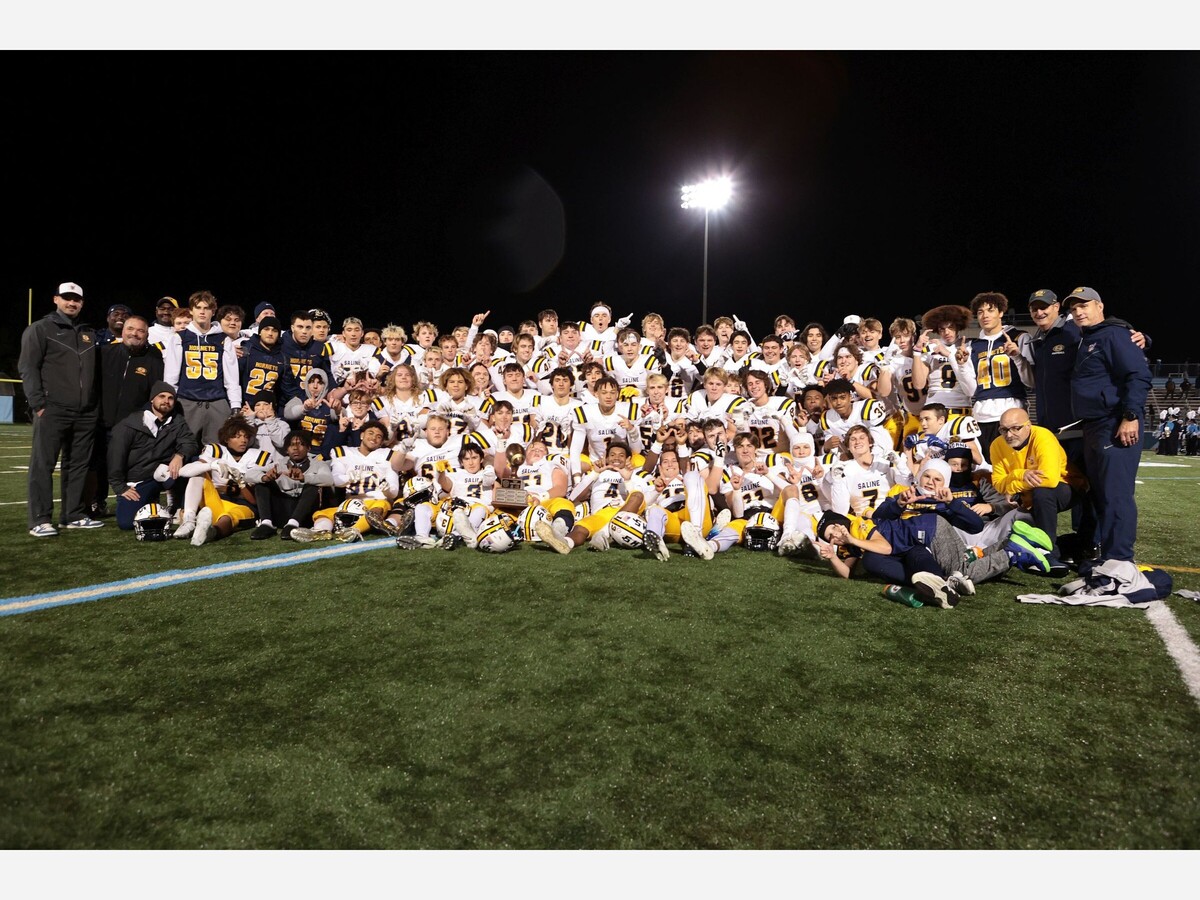 Saline football set records in a 70-0 victory over Skyline that officially clinched the SEC Red championship.
(659 pictures from the game in our gallery)
Saline scored on the second play from scrimmage, led 21-0 three minutes into the game and set records for points in a game (70) and point differential (70). Saline improved to 8-0 overall and completed a perfect run (7-0) through the SEC Red.
"It's a big accomplishment," coach Joe Palka said of Saline's conference title. "The SEC Red these past couple of years is as strong as it's ever been. To win it and win it unbeaten is an impressive feat. You've got to be on your 'A' game all year long. We stumbled a little bit, here and there. But we worked to get better all year and tonight was a reward for all their hard work."
Throughout the season, Palka has tied the Friday night performance to the week of practice. The week when Monroe gave Saline a scare, Palka said he could sense it coming during the week of practice. This week, Palka sensed something big coming.
"We've been practicing extremely hard. The kids have really bought in and continue to get better, regardless of who we play," Palka said. "We saw that tonight. We were worried about playing to our standard. It was great to get points in all phases of the game."
Senior QB CJ Carr completed 8 of 10 pass attempts for 156 yards and four TDs and no interceptions. On the first play from scrimmage, Carr was sacked after a high snap.
On the second play, Carr passed to Caid Fox, who caught the ball and then ran for a 72-yard touchdown.
Tyler Fedototszkin recovered a fumble to get the Hornets' the ball back and then James Rush ran for a 20-yard touchdown. Saline led 14-0.
The Hornets got the ball back and then LaDanian Woods ran in for a 15-yard touchdown.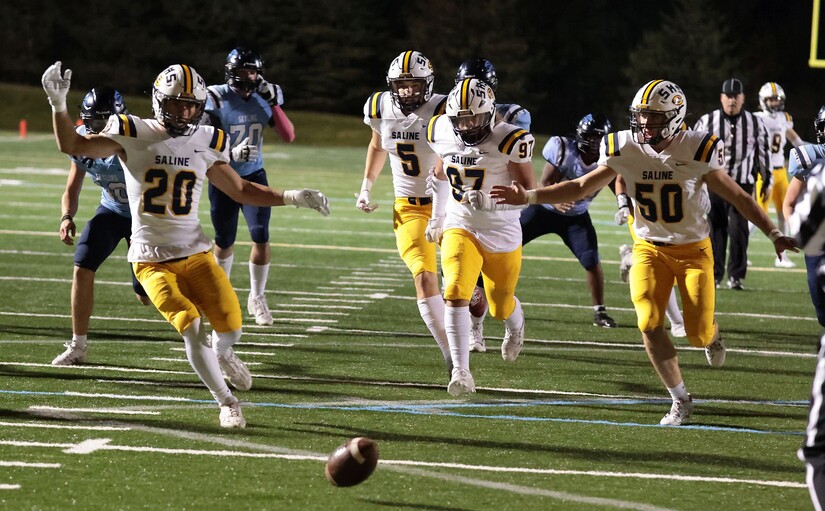 Saline went up 28-0 when a bad snap eluded the Skyline QB. Ryan Stein recovered the loose ball and carried it over the line.
After Saline forced a 3-and-out, the Hornets were back on the attack with a short field.CJ Carr and Dylan Mesman looked as if they had connected for a touchdown - but it was called back for holding. Saline went back to work and after a couple of runs by Rush and Woods, Carr threw a flat pass to Woods, who sped past the defense for a 19-yard touchdown. Saline led 35-0.
Saline's defense forced Skyline to punt and Josh Folk returned the ball to the Skyline 4. 
On the next play, Carr threw to Lincoln Keyes, who bounced back to the inside and scored untouched. Saline led 42-0. The game was still in the first quarter.
The Hornets added two touchdowns in the second quarter. The first came after a good punt return by Folk gave Saline great field position. 
The short drive concluded with Carr airing one out for his 6'5 TE Mesman in the end zone. Endzone made a beautiful leaping one-handed catch and brought it down for six points. Saline led 49-0.
The second TD came when Folk finally broke loose for a punt return touchdown.
Tommy Carr entered the game in the third quarter. 
Saline scored on a 33-yard rush by Malik Eisemann.
In the fourth quarter, Tommy Carr scored a five-yard rush to cap Saline's 70-0 victory.
The Hornets now set their sites Lake Orion, which visits Saline next with an 8-0 record in a game sure to attract the attention of the Michigan high school football world.
"It's great for the State of Michigan, great for our community to have two 8-0 teams facing off in that week nine matchup. They're a great football team. The way we have to look at it is, we have to get one week better," Palka said. "The thing you have to remember is, these week nine games, we've been fortunate to win a lot of them, and then you forget about it the next day, win or lose, because you're on to the playoffs."
AROUND THE SEC RED
Saline 70 Skyline 0
Dexter 55 Lincoln 12
Bedford 21 Monroe 15
Pioneer 40 Huron 38
Snooze2U Projections
The latest projection had Saline, Belleville, Huron and Pioneer in the same district tournament. But Huron's loss to Pioneer could jeopardize the RiverRats' chance to make the playoffs. Anything that shakes up that proposed district is probably good news for Hornet fans who'd like to avoid seeing Belleville until at least the regional round.
INTERVIEWS
More News from Saline