Saline High School Drama Club Presents The Curious Savage Nov. 3-5
Image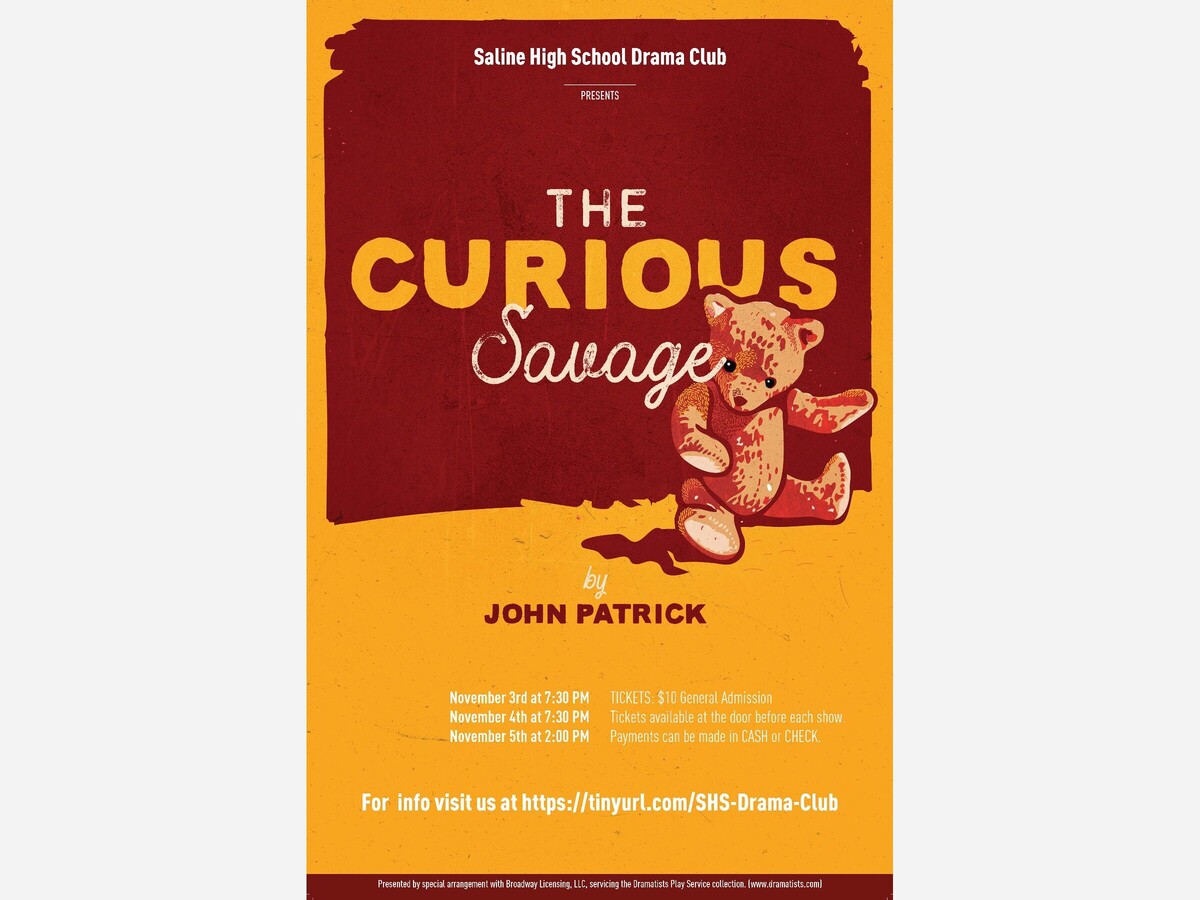 The Saline High School Drama Club will present its fall production, The Curious Savage by John Patrick, on November 3rd and 4th at 7:30 p.m. and November 5th at 2:00 p.m. in the Ellen A. Ewing Performing Arts Center at Saline High School. Seating is general admission and tickets are $10.00 and are available at the door beginning forty-five minutes before each show. Payment can be made in cash or check; credit/debit cards are not accepted.
The Curious Savage is a comedic and heartwarming play that explores themes of family, sanity, and the pursuit of happiness. The story revolves around Ethel Savage, an elderly widow who has inherited a fortune from her late husband. She intends to give away the money away to people who wish to pursue their "foolish dreams." Her stepchildren, who want the money for themselves, have her committed to a sanatorium in order to demonstrate that she is mentally unfit to handle the money. In the sanitorium, Mrs. Savage meets a group of eccentric, but kind-hearted residents, each with their own unique quirks and desires.
The Curious Savage explores what it means to be truly sane, and whether the pursuit of happiness can be found in acts of kindness and generosity. An entertaining and fanciful comedy, the play celebrates the value of compassion and the power of human connection.
The cast includes… Julianna Combs, CG Fergus, Drew Harrison, Marianna Lemley, Anna Palacios, Arlo Ringle, Henry Strozeksi, Trent Umpstead, Kadence Waldrop, Mikey Williams, and William Wilson. The production is directed and produced by Kristen Glatz and student-directed by Clara Meyers and Courtney Sinkhorn.
For more information, please email glatzk@salineschools.org or visit https://tinyurl.com/SHS-Drama-Club
The Curious Savage is presented by special arrangement with Broadway Licensing, LLC, servicing the Dramatists Play Service collection. (www.dramatists.com)
More News from Saline