ENROLLMENT DOWN: Saline Area Schools Eyes Staff Attrition As Student Population Falls by 280 in 2 Years
Image
Enrollment, already trending down over a number of years, plummeted by 280 students in Saline Area Schools over the last two years.
School officials have already begun talking about ways to adjust staffing models to meet the needs and financial limitations of a smaller school population. Superintendent Steve Laatsch said a smaller school district will likely mean a smaller staff - but he said the district should be able to avoid layoffs by using attrition (not replacing teachers as they retire or leave the district.)
The district's enrollment fell by 179 students in 2020-21 and 101 in 2021-22, according to a report shared to the Board of Education by Maria Owsley, Assistant Superintendent for Finance for Saline Area Schools.
The district's general operations are mostly funded by the state on a per-pupil basis. Saline receives $8,700 per student. The decrease would have meant a loss of nearly $2.5 million last year were it not for special mechanisms put in place by the state as part of the COVID-19 response.
Projecting forward, the district expects to see another drop of 137 students for 2022-23, rolling current numbers forward, although that number can be impacted schools of choice and other factors.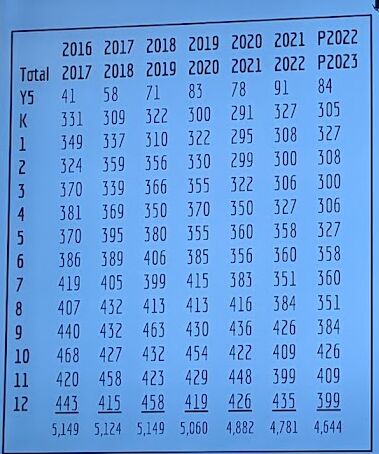 The district continues to see smaller populations in the younger grades and higher populations in the high school grades - although this year's kindergarten class is the largest since 2016-17.
The middle school has been hit hard, losing 58 students in 2020-21 and 60 students in 2021-22. The population at the school has fallen from 1,226 in 17-18 to 1,095 this year. It's projected to fall to 1,069 next year.
The high school population was unchanged in 2020-21 but fell by 63 in 2021-22. Next year the population is expected to fall by 51 to 1,618.
While many in the community have pointed to controversial cultural issues or the COVID-19 response as reasons for declining enrollment, Superintendent Steve Laatsch said the enrollment decline is part of an established trend of lower birth rates.
"We've been talking a lot about how we've had incoming classes of 350ish and exiting senior classes at 450 or greater. Eventually, that catches up and now we're at the point where we are moving through all of that," Laatsch said.
Laatsch speculated about other reasons for the enrollment decline. He said some parents have chosen homeschooling, private schools or other school districts.
"But the big one is the declining birth rates. We've been getting these declining class sizes for a while," Laatsch said.
Laatsch referred to the sixth and ninth-grade capture rate. These transition years, into middle and high school, have traditionally been years the school district sees more new students.
"It's still happening, but not at the level it once was. We used to get a greater boom at sixth and ninth grade," Laatsch said.
Laatsch the district has been preparing for lower enrollment numbers.
"People say the district is losing population and this will impact the bottom line financially. This is true if we don't make adjustments," Laatsch said. "But we're prepared to make those adjustments."
Laatsch said the district will use targeted attrition of staff.
"If we recognize there are 100 fewer students at the high school, then as teachers exit the organization, we wouldn't replace those teachers," Laatsch said. "We feel like we have a sound strategy. We're not going to be laying off teachers."
In addition, increases in state funding last year and expected this year can help ease the financial pressure. The district can also dip into federal ESSER funds to maintain the quality of service.
"We have time to continue to adjust our model without impacting our services and we're very confident we'll be able to do that," Laatsch said.
Trustee Susan Estep asked if other districts were seeing the same declines. Laatsch said the trend is common.
"My conversations with other superintendents around the county do suggest that enrollment loss, especially over the last two years, has been pretty significant," Laatsch said.
Assistant Superintendent for Finance Miranda Owsley said this trend is common across the state and attributes the trend to lower birth rates and families moving out of the state.
Another factor in the enrollment question is schools of choice - importing students from other districts. The district currently has a policy limiting schools of choice students to 10 percent of the overall population. Board President Jennifer Steben asked if the district could market the district to increase schools of choice - especially to students entering sixth or ninth grade. In the past, she noted, the district aimed at netting younger students through schools of choice.
Laatsch said the district would discuss schools of choice at the next meeting.
Trustee Jenny Miller asked about the district's ability to maintain great programing with less staff.
Laatsch said Miller asked a good question.
"If you don't have as many teachers, you are likely to not have as many options (course offerings). That is something that will have to be talked about," Laatsch said.
Replies
oh boy... where to start on the birthrate argument? Washtenaw county HAS seen a birthrate decline over a ten+ year period that averaged only .7% year over year. For students entering young 5's for the 21-22 school year, the total birth rate decline in the 8 preceding years TOTALED just over 4%. While that same time frame saw our county's population have an overall growth of 7% (despite the birthrate drop.) The birthrate and population changes for the students with birth years targeted at natural entry points of 6th and 9th grades increased significantly. The fall off in enrollment has zero to do with birthrate declines and as a matter of fact, the argument could be made that we should be seeing increases in enrollment based on the population increases within the county (which lasted through 2018.) Additionally, with more open school of choice for SAS, one would ponder what the fall off would be if the admin backed out the SoC numbers to find the actual decline of district resident enrollment. It's almost as if they need someone on the board that was a data analyst. ;)
You are spot on about enrollment numbers that should be increasing rather than decreasing. Now that the school board has been fully taken over by the woke left you'll see enrollment drop even faster. Funny how this will lead to teachers getting let go as they and their unions fully support this nonsense.
The numbers should not be a surprise to anyone who has been following this matter. The overall trend was identified in the 2000 census and the pattern has been consistent, and will continue.
Let me suggest that rather than reduce staffing, we reduce class size, and bring innovation into the classroom to deal with the decline in academic performance that has occurred due to the pandemic. These steps call for more educators, not less for at least the next 4 years, until the academic levels are restored to at least 2018 actuals.
As it relates to School of Choice, the 10% threshold was created (by me when I served on the Board and approved by the Board) after 11 years of study on this topic so that we do not over build schools and have underutilized facilities (fixed cost).
These fixed costs can only be addressed by increasing school of choice levels, which will reduce property values over time as family choose to live in nearby townships, cities etc. with lower property taxes and send their kids to Saline Schools without paying the full cost of the attendance. This was the conclusion made by the Board after 11 years of study of this matter. The core elements of this matter have not changed, therefore the policy should not change.
Funding under School of Choice only covers the state funding, it does not include the local property taxes such as the 2015 special bond we approved nor the 2022 proposal that was presented this week as an option. Families that attend Saline Schools do not pay this additional tax, only the residents of the School District do.
Lastly, as a community, we have asked that our schools and school leadership be supportive of a diverse community. We have more than that today on the Board, which is good on the overall. The challenge for this Board and our community is to make sure you represent all the voices of the community, not just those who agree with you.
One of the great things about a community the size of Saline is that our children grow up with the children of doctors, mechanics, teachers, and farmers. They learn about all parts of the society they will be part of when they graduate, so let's make sure to model the  behavior that we can all be proud of.
Working together with the goal of restoring the academic and social standards of Saline that has been our point of pride for many generations is the challenge of every person in our community. 
David Zimmer - Member of the Long Range Planning Committees of 2004 and 2010 and member of the Board 2011 - 2015.